The Lauren K Collection is comprised entirely of handpicked gemstones, crafted in 18 karat gold, and finished with delicate micro pave. Each stone is carefully selected for a variety of reasons. In fact, very few are ever chosen for their unspoiled beauty. Instead, most stand out for their characters and flaws which give the finished piece its own distinctive personality and unique look. Our gemstones are always the "star of the show." Nothing in the collection is mass produced, creating pieces that speak to each individual buyer.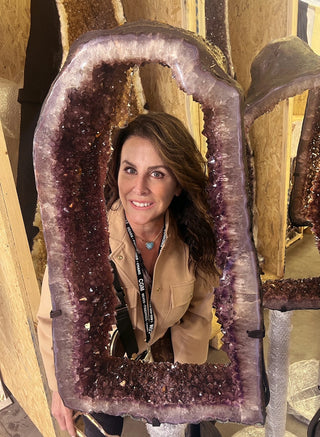 Each piece is proudly crafted in New York City. The collection is feminine, but with a bit of an edge, innovative, yet on trend with the latest fashions. The "bohemian chic" designs feature an abundance of color rich in character, like tourmalines, labradorites, opals, emeralds, and opaque diamonds, among other striking gems. Long layered necklaces, rings in brushed gold with gemstones in earthy hues, striking one-of-a-kind pendants in textured gold, and rose-cut sapphire and diamond stacking rings are staples in the continuously evolving collection. The surprisingly price-conscious line is a profusion of tempting creations, ranging from stylish daywear to exquisite statement pieces.
The designs notably utilize unexpected combinations of gems and color palates, creating jewelry that is both unpredictable and dramatic. The collection is broad enough to showcase pieces that are timeless, yet chic, glamorous, yet effortlessly elegant. Due to the fact that the line is largely comprised of one-of-a-kind pieces, each retail partner is able to tell an individual story that creates a unique shopping experience.  We work closely to curate striking collections that work for each store and their clientele.  In this way, each time you see the Lauren K Collection, it is told with a distinctively new narrative!