AN IMPERFECT WORLD
Lauren Kessler has mined her Diamond District roots for a coveted brand built on a passion for color, a puzzle maker's way with shapes, and a knack for finding beauty in unexpected places.
THERE ARE FEW things that offer the sybaritic delight of watching Lauren Kessler unload the contents of her safe. Bags of Australian opals and chunks of turquoise; slices of moonstones and labradorite; slivers of tourmaline and aquamarine, individually nestled in glass-topped boxes.
Read the full article…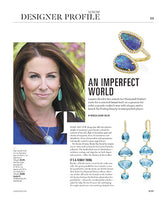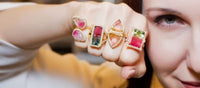 Best Jewelry of JCK by Katerina Perez
Carrying on my search for striking jewelery using coloured stones I came across Lauren K, who proved that her finger is truly on the fashion pulse with the gemstone of the moment; the watermelon tourmaline. Lauren's vibrant and colourful rings created a delicious contrast to some of the more concept based pieces, being both wearable and allowing the large, beautiful gems to shine in their own right.
___
Lauren K watermelon tourmaline rings with centre stones of 8.26 cts, 8.88 cts, 6.45 cts and 15.93 cts.
Photo by Simon Martner.